Nov 17 2020
Equipment I'm wearing at level 30. I'll probably be lazy and buy temporary equipment until I level back up to 30.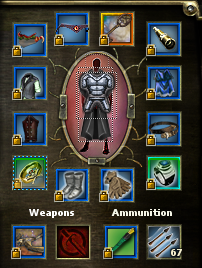 Eyes: Dream Visor (25) - I only use it for the +20 Spot so I probably should replace it something else.
Head: Legendary Wallwatch Circlet (29) - I have three Wallwatch items for a set. I like the special effect that slows down people.
Neck: Key of Rhukaan Draal (29) - You can only wear one artifact. This one increases my INT which helps my skills.
Trinket: Epic Treasure Hunter's Spyglass (28) - True Seeing and helps Search and Disable Device.
Armor: Legendary Wildwood Vest (29) - It's ok. My main defense is not getting hit in the first place and even with this on I still get one-shotted a lot.
Cloak: Cloak of the Mimic (28) - Deathblock is nice but that's pretty much all I have it for so I'd like to upgrade.
Wrists: Bracers of Twisting Shade (25) - Search and Disable Device +20 which is great for me.
Waist: Legendary Braided Cutcord (29) - Lots of DEX, the other stuff not so important.
Finger 1: Epic Ring of the Buccaneer (28) - Luck +4 (all skills) is nice and Underwater Action is convenient, though again could replace it with something better.
Finger 2: Initiate's Ring of Assassinate 6 - I don't think you can get better Assassinate bonuses and I need that for my Consume power.
Feet: Blackfeather Boots (21) - Feather Falling, Freedom of Movement, Speed +30% all very useful.
Hands: Legendary Wildwood Gauntlets (29) - +21% Dodge is great and Distant Diversion +33% is not bad for a shooter like me.
Weapon: Morninglord's Great Crossbow (29) - Holy 9, Fiery 9, Undead Bane 9, Alchemical Silver make it a good all-around weapon.